I have stopped looking up words in my Webster's College Dictionary a while back. I used their online version for the longest time before I started using other super fast means of finding meaning for words in the internet. I have listed them in the order I have found and used them, Google being the first. Here they are:
Google's Define Query
The simplest and fastest way is to use Google's search interface. Just type 'define: voracious' (without the quotes) in the Google search box to get the meaning of the word 'voracious'.  It's simple, fast and you can use the same familiar interface you use to search for other things.
Ninjawords
As geeky as the name sounds, this dictionary is fast like a ninja! Just try it to find out just how fast. Ever since I've found Ninjawords, that's where I go first to get meanings for the words I am looking up.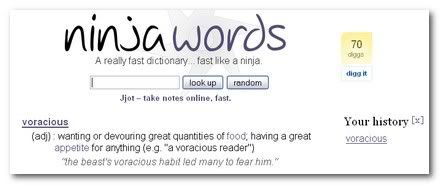 Definr
Definr is my latest find and I just love it. It is fast plus it is such a life saver if you are not sure about the spelling. It lists words and its variations as you start typing so you can just click on the one you want to look up. Plus, if you are a Firefox user, Definr lets you look up words super fast by these easy ways:
It has a Firefox extension to add Definr to list of search engines.
Type definr/voracious in Firefox and hit Ctrl+Enter to get you the meaning for voracious.
Drag and drop their bookmarklet to your toolbar
OneLook (Thanks Jeanne!)
OneLook has a quick dictionary feature just like the others for quick lookup. But, it is more like a search engine for words and phrases. It has more than 5 million words from over 900 dictionaries indexed! As Jeanne explains in the comments, it is a great resource for anyone trying to build their vocabulary or just plain looking up word's meaning or origin, etc.
If you are a person who loves to learn new words, the Reverse dictionary feature can be fun to play with! I once had a Reader's Digest Reverse Dictionary and had so much fun learning new words.
What do you use for your dictionary needs? Do you find one of these useful enough to bookmark and use later?