As a voracious RSS feed consumer, I have always been irked by the fact that a lot of FeedBurner enabled blog feeds have the title URL point to a FeedBurner URL instead of a link to the actual post.
If I wanted to bookmark the post or save the link to blog about it, I cannot do it by simply right-clicking. I have to open the post in a new tab/window to get the actual post link. Or I could hunt the bottom of the post to see if the feed has a Permalink to the post.
Recently, I came across this tip in gHacks where you can turn off FeedBurner redirect and make your post title link directly to your post URL.
Here is how you do it:
Login to your FeedBurner account
Choose the feed you want to edit
Under the Analyze tab, click on the 'FeedBurner StatsPRO' at the very bottom of the sidebar. (

FeedBurner PRO was made free after Google acquired it

)
Uncheck 'Item Link Clicks' shown in the screenshot and save it.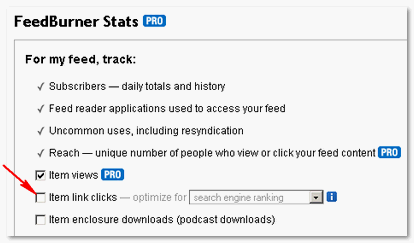 After I made this change, all my feed titles now have direct link to my posts. I am going to lose the stats related to this. But right now, making it easy for my readers and fellow bloggers to use my posts is more important to me than those stats.
Also, a FeedBurner plugin such as Better Feed WordPress plugin provide a Permalink to your post and other powerful options to personalize the look of your feed. You have probably noticed how mine looks with this plugin enabled.
It is still quite natural to click the title of the post in the feed to get the link. I wouldn't have found this if it weren't for the gHacks post. So, hats off to them!
Does your blog feed has this FeedBurner redirect in post titles? Now, you too can make it easy for me to link to your posts.
Updated 8/13/2008
Are you losing link love from DoFollow + CommentLuv blogs? Read this excellent post from Stephen Cronin, the creator of KeywordLuv plugin who explains quite eloquently (look towards the end of the post) why you shouldn't let your CommentLuv be stolen away.
if you are curious about what CommentLuv & keyWordLuv mean, read one of the most commented posts in this blog – Get CommentLuv and KeywordLuv for your comments
Updated 12/17/2008
It's still amazing how many bloggers still have this turned on. I hate it when I have to open the post in another tab in my browser from Google reader just to link to it. Being an active Twitter user, this is just frustrating. If you feel like I do, spread the word and lets get everyone turn this off.