I have found a few great extensions in the last couple of weeks and here they are. For those new here, I d o a periodical 'Picks of the Week' post listing some great extensions that I come across. Some of the best ones, make it to my more extensive 'Top Firefox Extensions' list. Now, that I am done with my usual plug, we can move to the extensions.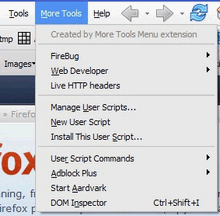 More Tools Menu: Tired of the clutter in your Tools menu because of all the extensions options? With More Tools Menu, you can eliminate this clutter into a separate menu 'More Tools' separating all the other extension options. Or you could use an extension like 'Menu Editor' to totally customize your menu options. [via Techie Buzz]
YouPlayer: YouPlayer adds a sidebar to your Firefox where you can drag and drop YouTube URLs to your sidebar to create a playlist to watch them when you have done collecting. As Ryan mentions, this is extremely useful when you are searching in YouTube and you can create a playlist without leaving the search interface. [via CyberNet News]
Grocery List Generator: This extension works with the website linked to facilitate building your grocery list. It also makes it easy to find recipes and add the necessary ingredients to your shopping list very easily.
PriceDrop: A must have for an Amazon.com shopper. With this extension, you can watch for price drops for any item in Amazon.com and get notified. [via LifeHacker]

Fancy Numbered Tabs: A great extension for the keyboard shortcut fans. It replaces the 'x' – close button in the tab with the number. Now, you can press 'ctrl'+'number on tab' to easily switch to the tab you want. [via gHacks]
Stealther: I really tried thinking hard for an innocuous reason to use this extension. But I couldn't. 🙂 You can browse without leaving a trace in your browser history, form history, closed tab list, downloded files, disk cache or sending of ReferrerHeader. It doesn't clean up your previous browser information but just the session you enabled it.
I hope you enjoyed this week's collection. You can click on the tag 'Firefox' on the tag cloud in the sidebar to view my previous posts about Firefox and Firefox extensions.
Sound off your favorite in this list in the comments. Let me know if you come across a great extension as well.