Previously called CraigsNumber, Numbr offers free, disposable phone numbers that will automatically forward calls to your mobile or landline number.
Quick facts about this service
Auto-expiring and callers don't see your home or mobile number
Service is free but is in Beta
If you are not from one of the major cities, you may not get one in your area code
Allocated numbers and unique and will not be reused.
The default expiry date is one month but you can extend it indefinitely
Set call options like screening calls between set time period, blocking calls from blocked caller ids, blocking calls from suspected telemarketers.
You can get your incoming call history emailed to you.
You can also get a FREE numbr by calling (415) 234 5678
You can see the various options you can set in this screenshot.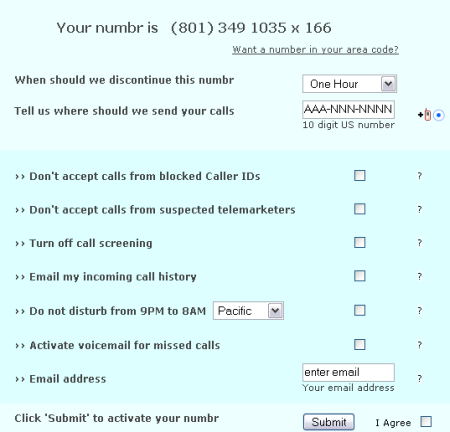 A few reasons why this number could be useful to you
Use it when you put a flyer out to sell something
Use it in Craigslist
Use it in eBay
Use it in your blog or website
I grabbed one even though I have a GrandCentral number. This could come in handy when you really don't feel like sharing your phone number with someone. Are you getting one?