Everyone likes to be healthy and in shape and we try in our own ways to achieve that elusive balance between eating our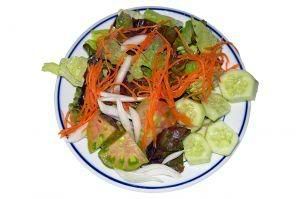 favorite food and watching the calories. My wife and I have many a times ordered a Salad at McDonalds or other fast food restaurants over a burger or a sandwich thinking we are making a healthy choice.
Consumerist has thrown some new light on it and I was, to say the least, wasn't delighted. Their findings suggest that some of these salads have not just higher calories than a burger or a sandwich, but also high in carbs!! An excerpt from the Consumerist article..
If calories aren't your biggest concern, the salads also packed quite a hefty helping of sugar and carbs. Since they're often marketed towards carb-conscious eaters, we were surprised to see the amount of sugar in some of these salads. Wendy's Garden Sensations Mandarin Chicken Salad has more sugar, yes sugar, than 8 oz. of Coke.
Well, now when we try to make a healthy choice we know what really is healthy. I know I'm giving up a little bit of my health just stepping into a fast food place but atleast I won't have the false sense of making a healthy choice there. And I don't have to sacrifice my favorite Grilled Stuft Burrito over a Fiesta Taco Salad which has more calories as well as more fat!
Have you chosen a fast food salad over burgers thinking the same? How does this make you feel towards the fast food chains? Do you feel cheated?