I've had a couple of contests here last year but this is the first contest I am sponsoring.
My wife Shriya & her friend Nithu are running their first ever contest in SpicyTasty.com – Fortune Cooking Contest!
What's Fortune Cooking?
Fortune Cooking Contest!!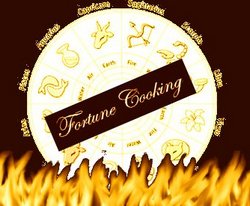 Most of us having varying degree of affinity to zodiac signs. The idea behind the contest is
We have matched different zodiac signs with different food items. All you have to do is pick a sign and prepare a dish. The sign you pick can be yours or your family member's or friend's or even your pet's.
What can you win?
2 Winners will be picked randomly and awarded these cool prizes!

The First prize will be a beautiful jewel set ($25 value) sponsored by Lakshaya.com – A Fashion in a Click. Will be shipped to wherever you are.

The Second Prize will be a $20 Amazon Gift Certificate sponsored by (shriya's hubby) Shankrila.com. Yes, that's me!
How do I enter?
I won't ruin the fun of reading the whole juicy details at the contest post. But, you can easily enter if you have a blog or not. And it's open to everyone and the jewel set will be shipped anywhere you are!
How hard is it to share a recipe of a dish you make everyday and maybe share a few pictures of it?
Contest Deadline
Contest ends June 1 2008 midnight EST. Winners will be announced June 6th at SpicyTasty.com and will have 48 hours to claim the prize.
So make sure you grab SpicyTasty's RSS feed!
No, my wife didn't make me post this and yes, I will get some brownie points if you enter the contest! 😉