Google Alerts in an excellent service by Google that is not often talked about like GMail or Google Reader. It has to be one of the hidden treasures in Google's suite of web applications.
Google Alert is a simple service where you get an email alert for any search term you specify. You can choose to have your topic searched in one of the following areas. If a content is indexed by Google, then you will be able to find it with this service.
News
Blogs
Web
Videos
Groups or
Comprehensive
You can choose to receive alerts to your email once a day, as it happens or once a week depeneding on how frequently you want to be notified. Spend an extra couple of minutes thinking before you choose 'As it happens' as you can very soon get tired of all the emails you get alerted with. If you don't read the alerts then there is no point signing up for them.
1. Look who's talking
If you are a blogger, you probably rely on trackbacks to get notified of who is linking to you or talking about you. But, trackbacks aren't 100% reliable and sometimes you might not get notified of someone's effort in taking the time to link to you. One great advantage is that you could find out any conversation about your blog even if the other blogger did not link to you. Networking is crucial for a blog to be successful and you really do not want to miss someone else actually talking about you to their readers. Good or bad, I want to know if you talk about ShanKri-la in your blog.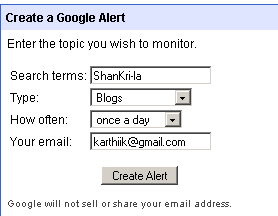 How to: Set up a Google Alert with your blog name and set up a comprehensive search and ask to be emailed once a day or once a week depending on how soon you want to know who is talking about you. Or you could just set up a Blog search to narrow your search to other blogs linking to your blog.
2. Follow your Niche
If you are a Niche blogger, you have to stay current to be on top of the topic you are writing about. You might rely on a few other sites in your niche to stay updated. How would you like to have an email everyday that has current information on the topic you are interested in? As a tech blogger, I like to focus on topics like RSS feed readers, Firefox, Web applications and I have alerts created on each of these topics to stay current.
3. Blog Post Ideas
Are you facing writers block? Set up keywords in Google Alerts that you would like to write on and get a daily dose of inspiration and ideas.
One great thing about the keywords is the advanced search criteria that you use in a Google Search also works in Google Alerts. Just go to Google search's Advanced Search page and build your complex query. Then just copy that and paste it into Alerts.
4. Watch for announcements
Are you into writing about breaking news stories? Set up Google Alerts in News and subscribe for alerts and get notified 'as it happens'.
5. Track yourself
Besides tracking your blog, you could just plug in your name and see if you come up in web searches. Even if you don't appear in the weekly alert you have set up, it is still cool to see what other people with your name are appearing in searches for. You could even set up job search alerts in your area like 'web developer detroit'.
Conclusion
You could easily create and delete alerts if you already have a GMail account. Or you could sign up for a new account in a few minutes. Play with it and experiment with the results. These are just a few ways I have been using Google Alerts.
How do you use Google Alerts?