I know there is a lot of online file storage options. But, few have this kind of high numbers while keeping the service free. BOXSTr offers 5GB of free storage plus some significant bandwidth to share files.
Quick facts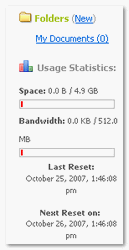 5GB of free online storage space
1/2GB of daily bandwidth with rollover bandwidth (reset daily)
Upload files upto 250MB
Supports numerous file types (they say 99.9% of file types)
Create folders with no limits and make them private or public
Password protected folders & file tagging are coming soon
I like how they handle batch uploads. You can zip all the files you want into a single zip file and on uploading the zip file, they uncompress and store it in the folder of your choice. I think this helps greatly with the upload time as well and better than manually selecting files. You could choose to store the zip file as is too.
BOXSTr seems to have hit a snag with their old system and completely revamped their site. Their old users don't get an automatic upgrade instead they can download their files as a zip file and re-upload them into their accounts in the new system. But, this shouldn't affect you if you are thinking of signing up for an account.
I am going to give this a shot as I would like to keep desensitized stuff online for backup. Looks like a pretty good service overall.
Online storage is a space competed by several players and I would like to find out a few good ones to recommend to my friends as well as use it myself.
Do you use an online solution for storing and sharing files? What do you use and why do you it's better?