The trend for a lot of software companies in this age of freeware is to release their old versions for free. This lets potential users TechSmith is doing just that with their award winning products SnagIt & Camtasia.
SnagIt
SnagIt is a Screen Capture and an Image Editing tool. It is really feature rich and you can check out all the features here.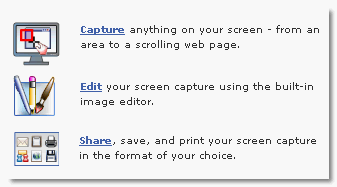 The current version as I write this post is 8.2 and the free license being given away is for version 7.2.5. If you are a Windows Vista user, you might have issues installing this version. You have the option of upgrading to the current version of $39.95 per copy.
Download Free SnagIt version 7.2.5 here
Camtasia
Camtasia is used to create stunning screen recording and editing. You can capture video of entire screen or just portions and record sounds as well. You can also edit the captured video and burn it to disc. Current version Camtasia Studio 5 is priced at $299 but you can get Camtasia Studio 3 for free right now. For a regular user, the free version should suffice and it would be nice step into a professional software even if it is a tad old.

Download Free Camtasia Studio 3 here
Update: Sorry about the misspelled title! It is Camtasia without the 's'.
I use the free version (relatively older) of FastStone Capture for my screen capture and basic image editing needs. It is portable and has awesome features. But, I am about to give SnagIt and see what kind of difference a paid software offers against a free one.
I almost forgot to mention the awesome Screengrab! Firefox extension that makes taking whole screenshots or selection of webpages such a breeze.
What do you use for your screenshot needs?
[via CyberNet News]