Remember the Milk is my choice online task manager. As fun as the name sounds, the application is very intuitive to use as well as very web 2.0. I have wrote about Remember the Milk here, here and here.
Remember the Milk – Reloaded
My favorite application to keep track of tasks in different lists and tags just got better with these new features.
Improved List View – New icons & keyboard shortcuts
Connecting your tasks – Visually connects the tasks you editing to the details box
Friendlier due dates
Tags – easier editing and management
Tags visible in the list – tags are nicely displayed in the list
Private Atom/RSS/iCalendar feeds
Atom/RSS feeds for completed tasks
Using Smart Lists in Searches
New advanced search operators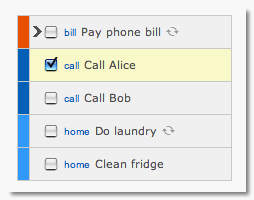 Whew.. RTM team has definitely been super busy with these slew of new features. Plus, the application loads and reacts a whole lot faster as well.
If you are looking for an onine task manager to take control of your tasks at work or home, I totally recommend Remember the Milk.