I love traveling. And I am fond of reading travel guides before and while traveling. I like to get the background about the places I am visiting and try to find the best bang for the buck in the limited time I am at a place. I have used Fodor's guides and TripAdvisor forums in all my previous trips.
Recently, I came across Schmap before my trip to Las Vegas. In their words,
Schmap's series of digital travel guides integrates dynamic maps with useful background reading, suggested tours, photos from the traveling public and reviews by local correspondents (for sights and attractions, hotels, restaurants, bars, parks, theaters, galleries, museums and more) to profile 200 destinations throughout the United States, Europe, Canada, Australia and New Zealand.
The thing I liked the most about Schmap is that it is available online as well as offline as a desktop application and have all that information in my laptop and use it during the trip.
Schmap Quick Facts
Schmap's online guides offers interactive Ajax-powered dynamic maps and guide content
Schmap's online also has reviews of places and slideshows. You can navigate by interests, needs or neighborhood.
Schmap 2.0 is the desktop application that offers you trip planning convenience.
You can take virtual tours, custom print full-color guides and publish itineraries.
You could also download Schmap Megapacks and download a bunch of guides in one shot.
World MegaPack – 200 guides; Europe MegaPack – 95 guides; America MegaPack – 94 guides
Schmap also offers fully customizable mashups that you can publish to the web with a single click – Schmapplets.
Syndicate content via filly customizable map widgets
Shmapplets, in short, is way for you to share travel recommendations, trip itineraries, reviews, etc with friends and family.
If you are in a Travel related business, you can add Schampplets as an interactive mapping element and share information with your readers or clientele.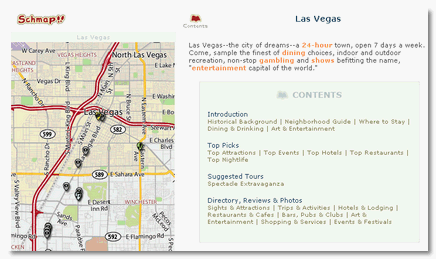 When you are getting ready for a trip next time, give Schmap a whirl or you could just download the desktop version and take virtual tours of faraway places.
It's best to be prepared and make sure any shiitake happens in your trip to a new place.