Google has made search possible in a large number of international languages. I just found out today that Google has announced Google Labs India on our Independence Day on August 15. Google Labs India is to showcase their favorite ideas for Indian users.
Now, they have made it really easy to search in 14 Indian languages including my native tongue, Tamil without having a special keyboard or software. They have made special iGadgets available for iGoogle Homepage. Once added, I can compose queries in my native language and search for content in Google!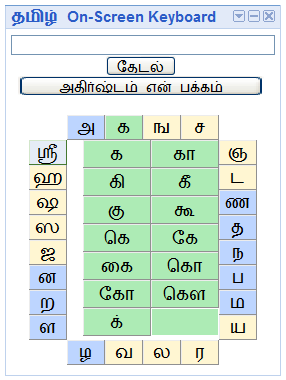 iGoogle gadgets are also available for Assamese, Bengali, Gujarati, Hindi, Kannada, Malayalam, Marathi, Nepali, Oriya, Punjabi, Sanskrit, Sinhala and Telugu.
Google Indic Transliteration
Google has brought this feature over from Blogger. What you can do with this tool is pretty cool. You can type out the words in Hindi phonetically, with an English keyboard and Google converts it into the correct Hindi word. I tried it with my little Hindi knowledge and was surprised at the agility with which it converted most words correctly. For the ones that are wrong, Google lets you suggest the correct version and the algorithm learns as it goes. It is also available as an iGoogle Gadget.
Google has a powerful presence in India employing a lot of engineers and the availability of search in native languages will be welcomed by everyone around the world.
[via Google Blog]