Are you annoyed by those calls from 1-800-number missed calls when you come back from work and wondered 'Who called us?'.
Wonder no more. There really is a website named Who Called Us where you can enter the number you want to look up.
It is also interesting to see the most frequently reported/called numbers and most called states as well. California sits at the top of the list there.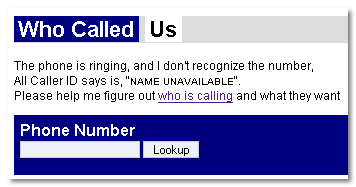 For any particular number, you can see all the comments for that particular number a map overlay of how the calls are spread out throughout the US. You could not only figure out who called you, also most often what they wanted from the comments.
The lookup is not limited to just 800 numbers as a lot of marketing people these days use regular numbers as well.
Next time you wonder about the number on your caller ID, you know you'll use this bookmark.