I like competition because we, as consumers benefit directly from it. I especially like the new competition to del.icio.us, the popular social online bookmarking service.
Mister-Wong.de has been hugely popular in Europe and I have been in their closed-beta for over a month. I was really excited because I have been looking for a better interface than del.icio.us and Mister Wong came very close to it.
On August 2, Mister-Wong.com was officially launched and opened the doors for everyone to join.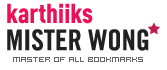 You can read how I used this trick to make del.icio.us actually taste good here.
If you use del.icio.us or myYahoo, some of the features mentioned below might not be new to you. But, I am listing here for the benefit of anyone wanting to try an online social bookmarking service.
Quick Facts
Tags: Tag your bookmarks and bundle your tags into tag bundles for easy grouping.
Secure: Make your bookmarks public or private.
Buddies: Find your buddies and share bookmarks with them and receive messages.
Groups: Join groups of your own interest to keep track of popular bookmarks.
Profile: Attach a picture to your profile so your friends can make fun of you.
Import: Easy import from del.icio.us or from your browser.
RSS Feeds: RSS feed are available for your bookmarks for easy sharing. (activate it in Settings)
Firefox: Use Wong Firefox Toolbar for easy bookmarking.
Bookmarklets: Bookmarklets available for other browsers for easy bookmarking.
iPhone: Works great on an iPhone!
Video
Here is a video by 2 geeks and a hot girl of Mister-Wong to take a look at some of the above-mentioned features.
[youtube hKqPp94rzLg]
Links
Firefox Toolbar, WordPress Plugin, Wong Widgets, etc.
Do you use a social bookmarking tool? If you use del.icio.us are you happy with it? Would you give Mister-Wong a shot?