I talked earlier about how to manage your passwords in my Guide to managing your non-essential passwords. I subsequently showed how you can use an excellent free online tool, Clipperz to store your passwords, registration keys and much more online securely and in an easy to access manner.
PassPack

Tara Kelly of PassPack since invited me to try it out when v5 was in a closed beta a few weeks back. In this part of the review, I am not going to compare PassPack with Clipperz in this post as I will write a comparison in a later post.
How it works
PassPack uses the 'host-proof hosting' 'zero-knowledge' concept of storing your credentials. In layman's term it means they have no way of reading your private encrypted data on their server. They have zero knowledge about what you are storing on their servers. You have the key to the encryption and only you can read your data.
Let's take a look at our usual quick facts to learn about PassPack.
Quick Facts
Security: You protect your account and data with not just a username and password. But, also with a packing key to encrypt your data. You can scramble your passwords (so someone doesn't see it over your shoulders) and see the strength of your passwords. It also has a password generator for those times you don't want to bother thinking of one. Plus, it uses a strong AES encryption to encrypt your data.
Tip: Use a mixed case sentence or a phrase with numbers for your packing key. It's more secure and easy to remember!

Easy to store: You can store usernames and passwords in a simple pop-up form. The Notes field extend this storage beyond just passwords to storing software registration keys, pin numbers, contact information, etc. You can also attach tags for easy lookup later.

Quick Search: It sports a Ajax search box where it pulls your entries as you type. This is tremendously helpful when you have dozens and dozens of entries. You can also set the number of rows you see from Accounts -> Options. You can set it from 6 to 20.

Tags: Another helpful way of visualizing and accessing your entries quickly. The tag cloud shows the most used tags by size as well as the number of entries in it. Here is a look at my tags so far.

1-Click Login: PassPack offers a true 1-click login where once set up, you can login to a website directly from PassPack in a single click! I will talk about how to set it up in a latter section. Also, read about True 1-Click Auto-Login feature where you don't even have to go to PassPack to login!
Anti-phishing: Phishing is when a hacker makes you think you are on the site you think you are on and try to steal your credentials. PassPack protects you from such attempts by using a combination of Welcome message, IP address recognition and hand-eye training. [Learn more – PassPack help]
Auto Locking: The application will automatically lock if it has been inactive for a certain time (configurable). But, you can keep the application from locking by turning on Auto Login. If you are at work it might be annoying if it asks for your packing key every 10 minutes. But, you have to turn this off manually once you want to secure it.
Backup & Restore: You can backup your PassPack data in an encrypted form. You can use your current packing key or a different key for the backup.
Export & Import: You can export your entries from PassPack to a comma separated (csv) or tab separated values files. Likewise, you can import from a csv file and PassPack lets you preview the data before you import them.
Other Features: You can change your username if you want. You can email your packing key to yourself. You can use Disposable Logins to generate one time set of password / packing key for the times you are at a public terminal. Also, you can login to PassPack and with the browser open go offline. Now, you can make changes and go back online to save them.
How to set up PassPack 1-Click Login
You can set up 1-click login in a few easy steps:
Drag and drop the PassPack It! bookmarklet button to your browser bookmarks.

Go to a PassPack entry and click on the 'Go There' button.
In the window/tab with the website you want to login, now click on the saved 'PassPack It' bookmarklet.
Now, it'll pop an instruction message on how to do this. It's simple. Just click ok and then click on the login field, password field and the login button in that sequence. As you click, you will se a red outline indicating PassPack understands it. Now, PassPack will log you in with your saved credentials.
From next time on, you can just click through to a website from PassPack without entering username and password.
A lot of times though, we might be already in a website login page while surfing. It is a little cumbersome to go to PassPack and then click through to that website to login. Read on to find out how to login directly from the site you are in.
How to set up PassPack True 1-Click Auto-Login
Here is how you set up a true 1-Click Auto-Login: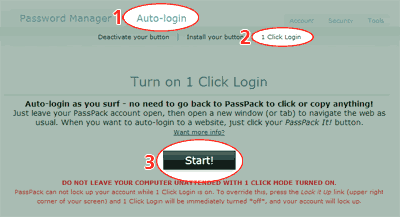 [Credit: PassPack]
Go to Auto Login tab and choose 1-Click Login.
Press 'Start' button and notice the alert message that stays on until you turn this off.
Now, as you surf when you are in a website you would like to login, just hit the 'PassPack It' bookmarklet and PassPack logs you in with the credentials you have stored with it!
This way, once you start Auto-Login in the morning, you can surf and enter websites without ever going to PassPack again. This is true productivity in my opinion!
If you have any problems getting any of the features to work, send them an email and I have found Tara to be very responsive! Plus, PassPack Help section and the PassPack Blog are excellent places to stop by and see if your problem has been talked about already!
Conclusion
I hope this review is helpful to anyone looking to try an online password manager. As I have mentioned before, I am yet to be convinced about the security of storing my financial information, credit card numbers or other critical data online. But, for other non essential passwords, I think the security we are see here is very adequate. In fact, the 'zero knowledge' approach does look foolproof to me but I'm just not going to store things that could help identity theft online. I guess that's just me! Also, you may want to consider using Computer Monitoring Programs to protect yourself and your kids.
Look for a comparison of PassPack and Clipperz and why I continue to monitor both the applications closely in an upcoming post shortly.